Product Description
Make your trip to Kusu island even more magical with our Afternoon Tea Ferry experience (the first and the only one in Singapore). 
You can enjoy a relaxing afternoon on an hour cruise along Marina South Coast where you can see some of Singapore's iconic landmarks with pre-recorded commentary, before we drop you off at Kusu Island.
A delicious (halal-certified) Afternoon Tea consists of savoury, sweet kueh and hot tea will be served to your table.  
So, what can you expect?
1   A memorable Afternoon Tea Ferry experience along our Marina Coastline and Sentosa.
2  Explore Kusu Island with Sindo Ferry and departing from Harbourfront Centre.
3  Safe and comfortable ferry ride with a beautiful garden theme interior.
4  Enjoy a fresh selection of sandwiches, mini pastries and delicate kueh-kueh and cakes (see Kueh & Kusu Menu)
5  Complimentary hot tea for all passengers (free-flow).
6  Captivated by the spectacular sights of Singapore's iconic landmarks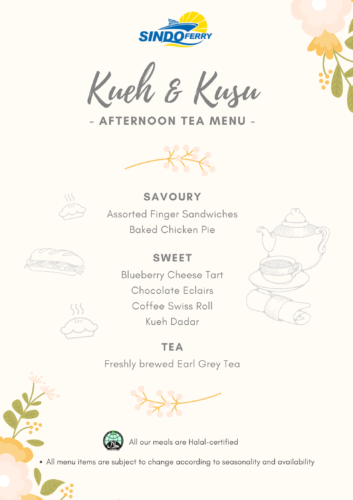 Marina Coastal Delights Itinerary: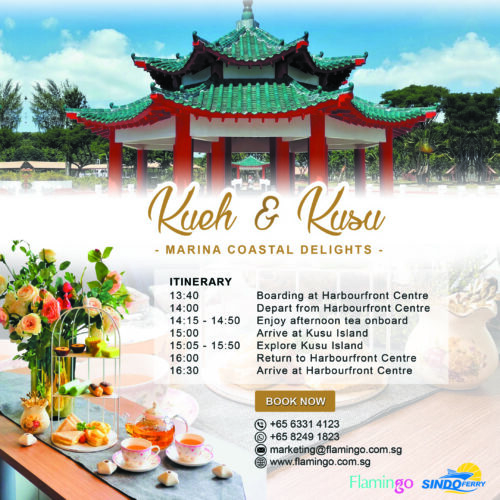 For Singapore Rediscover Voucher (SRV) redemption, please visit this link. 
In line with our latest Covid-19 Safe Management Measures, we are limiting our pax load to 50 pax per trip.  Each dining group (comprising no more than 2 pax) will be separated by at least 1 meter.  Inter-mingling of pax between different tables is not allowed.
Disinfection and cleaning will be carried out before and after the journey.  Let us stay safe together while enjoying ourselves!
THINGS TO NOTE
COVID-19 SAFE MANAGEMENT MEASURES
Ferry is regularly sanitised and all our service staff are fully vaccinated.
Passengers must adhere to our Safe Management Measures.
Please continue to wear your mask if you are not drinking or eating.
Please do not mingle with passengers from other tables or form a large social group while onboard the ferry even though you belong to the same household.
The number of passengers is limited to 50 pax per trip.
TABLE ARRANGEMENT & SEAT ASSIGNMENT
When you board, you will be shown to your table.
Please note tables are fixed and are arranged to ensure adequate social distancing between passengers.
Please follow our seating arrangement.
Window seats are not guaranteed and table sharing may be arranged (with safe distancing).
Please let us know in advance if special assistance is required (passengers with reduced mobility or the use of a wheelchair).
CHILDREN POLICY
Children above 6 year old are welcome onboard and they must be accompanied by an adult.
Children menu is available upon request.
MENU AND DIETARY REQUIREMENTS
The menu is subject to change depending on the season and availability of ingredients.
Vegetarian option may be available. Please let us know in advance if you wish to indulge in a vegetarian menu.
Products may incude nuts or trace of nuts.
For any special dietary requirements or restrictions, please contact us at booking@flamingo.com.sg and additional charge may be imposed.
Our food is halal certified.
Beverages (soft drinks and alcoholic drinks) are available for purchase.
THIS IS A NON-SMOKING FERRY