Product Description
It's time to show your love and support to your favourite Cosplayers – Rithe and Xiaoyu!
They will be joining Kueh and Kusu trip on 27 March 2022 at 2 pm (ONE DAY ONLY)
Don't miss the chance to meet them in person, have an afternoon tea together and purchase some of their special cosplay merchandise!
Celebrity Cosplayers – Rithe and Xiaoyu Fan Meet
Date:          27 March 2022 (Sun)
Time:          2 pm to 4.30 pm
Location:   Kueh and Kusu trip.  
Include:      Cakes and free flow drinks. 
Note: Boarding starts at 1:45 pm at Harbourfront Centre, Level 1 – The Arrival Gate (next to the Cocoa Trees)
EARLY BIRD TICKETS ON SALES
Usual Price         – $90 nett per person
Early Bird Price  – $70 nett per person ($20 off!) 
Sales Period       – 1 March to 13 March 2022 or first 20 redemptions, whichever is earlier.
See you there!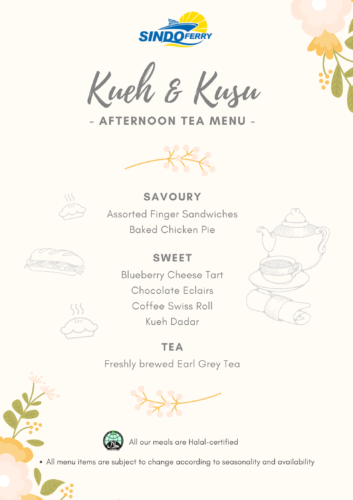 THINGS TO NOTE
TRAVEL DOCUMENTS
You do not need your passport for Kueh & Kusu.  You only need to bring along a Photo ID and a smart phone with your TraceTogether app.

For kids without Photo ID, we will accept a screenshot of their birth certificates.
COVID-19 SAFE MANAGEMENT MEASURES
Ferry is regularly sanitised and all our service staff are fully vaccinated.

Passengers must abide by our Safe Management Measures.

Please wear your mask whenever you are not drinking or eating.

We only accept a max of 5 persons per group if the passengers are from different households.  If you are from the same household, we can accept a group of more than 5 and we will split you up and you won't be seated next to each other.  Speak to us if you need further assistance.

Please do not mingle with passengers from other tables or form a large group of more than 5 at all times, even though you may all belong to the same household.

We are only allowed to carry 50 passengers for each Kueh and Kusu trip.

No smoking is allowed on board, indoors and outdoors.
ONLY ELIGIBLE FOR FULLY VACCINATED PASSENGERS
Under the latest Ministry of Health directives, Kueh & Kusu is open to only fully vaccinated people.
As announced during the Multi-Ministry Task Force (MTF) press conference on 6 August 2021, F&B establishments are permitted to seat fully vaccinated diners in groups of up to 5 persons.

"Fully vaccinated" means two weeks after receiving a full regimen of the Pfizer-BioNTech/Comirnaty or Moderna vaccines, or any of the vaccines on the WHO EUL listing, with the vaccination status updated in MOH's national IT system as indicated in Section (2) below.

In addition, the following individuals are eligible to dine-in at F&B establishments if they:




Have recovered from COVID-19 and have a valid Pre-Event Test (PET) exemption notice; or

Have a negative PET result for the duration of his/her dine-in from an MOH-approved COVID-19 test provider within the last 24 hours; or

Are children aged 12 years and below, so long as all children at a given table are from the same household.

F&B establishments are not allowed to accept any dine-in customers who do meet the criteria in (a)-(c) above.

Please submit your vaccination certificate via google form at

bit.ly/VaccinationCert
TABLE ARRANGEMENT & SEAT ASSIGNMENT
When you board, you will be shown to your table.

Tables are assigned in compliance with Safe Management Measures.

Please do not switch tables.

We cannot guarantee preferred seats or tables, with apologies.

Passengers from two different small groups may be assigned one table.

Please inform us in advance if you require any special assistance (e.g. passengers in wheelchairs).
CHILDREN POLICY
Children above 6 year old are welcome onboard and they must be accompanied by an adult at all times.

Children need to buy tickets before joining the tour.  For children's rate, please check with us.

There is no children's menu available.  Children will be served the same menu as adults.

Please let us know if you would like to bring your baby or infant.  
MENU AND DIETARY REQUIREMENTS
All food served is Halal-certified.

The menu is subject to change depending on the season and availability of ingredients.

Vegetarian option may be available. Please let us know in advance if you wish to indulge in a vegetarian menu.

Products may include nuts or trace of nuts.

For any special dietary requirements or restrictions, please contact us at booking@flamingo.com.sg and additional charges may apply.

Beverages (soft drinks and alcoholic drinks) are available for purchase.
REFUND AND CANCELLATION POLICY
Once tickets/tours are purchased, they cannot be cancelled and refund is not allowed.

If you are unable to travel due to personal reason, please give us at least 3 days notice prior to your trip date.  We will allow trip reschedule or pax replacement and subject to admin fees and seat availability.

We are unable to reschedule, refund (partial or full) or cancel your tickets if you miss your tour and/or "no show".

We reserve the right to change, modify or cancel the trip itinerary at any time for reasons beyond our control.