Product Description
Upon successful payment, we will email you the ferry voucher. You may proceed to book with Sindo Ferry directly. Simply print the voucher and present it at Sindo Ferry counter for check in.
If you prefer, you may also send us your details and we will book with Sindo Ferry. Please email to marketing@flamingo.com.sg by attaching the following info for all passengers:
1. NAME (as in Passport)
2. PASSPORT NO
3. PASSPORT ISSUANCE DATE (DD/MM/YYYY)
4. PASSPORT EXPIRY DATE (DD/MM/YYYY)
5. DATE OF BIRTH (DD/MM/YYYY)
6. NATIONALITY
7. GENDER (MALE/FEMALE)
8. YOUR PREFERRED DESTINATION (BATAM CENTRE)
9. YOUR PREFERRED DEPARTURE DATE AND TIME
10. YOUR PREFERRED RETURN DATE AND TIME 
11. YOUR ORDER / RECEIPT NUMBER
FERRY TICKET PRICE TO TANJUNG PINANG
1 WAY TMFT TO TPI – $50 NETT PER PERSON
1 WAY TPI TO TPI $45 PER PERSON*
2 WAY TMFT-TPI – $95 PER PERSON *
*Price exclude Tg. Pinang terminal fee.   Indonesian passport holders are charged at Rp40,000 per person and other nationalities are charged at Rp60,000 per person.
Please make payment directly to Tg. Pinang terminal operator in Rupiah.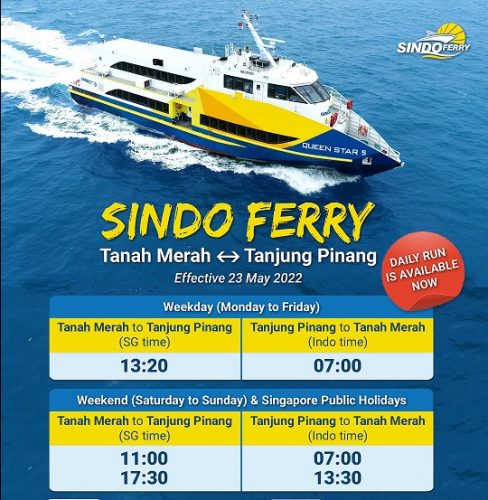 Indonesia authority has lifted the quarantine requirements and pre-departure testing which means you no longer have to do ART or PCR test before travelling to Batam / Bintan / Balai.   For non-Indonesian passport holders, travel insurance with Covid-19 add on (min coverage of SGD20,000) is not longer required.  But if you wish to purchase it, you can visit this link to get a quote and if you like what you see, you may proceed to purchase the travel insurance.  
Sindo Ferry has prepared the checklist for travellers traveling between Singapore and Batam.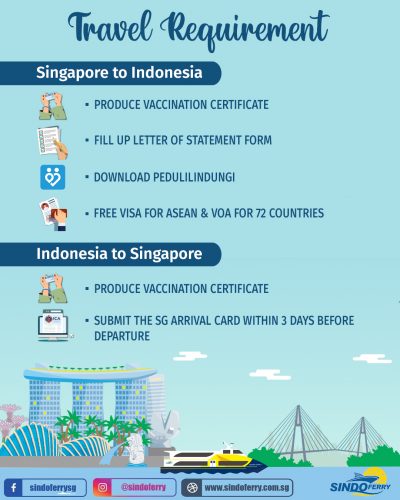 Keep calm and always read the fine print
Once an order and payment are made successfully, cancellation or refund is not allowed.
You may ask for a open voucher to be sent to you or you may request for check-in service.  Please state that in your email to us at marketing@flamingo.com.sg
If you require us to check in your trip, please send us your full passport particulars.  Any amendments after a booking is made will be subjected to our admin fee.
If you need to reschedule your trip (after check-in), please notify us at least 3 days in advance and it will be subjected to seat availability and admin fee.
It's the passengers' responsibility to check the entry and exit requirements such as passport with a min validity of 6 months, entry visa, vaccination certificate etc.  No refund or reschedule will be given to the passengers if they are rejected by the ferry operator or the immigration due to insufficient documents or not meeting the travel requirements.